This year was my first year participating in DECA and man was it a blast.
For those of you that do not know what DECA is, DECA stands for Distributive Education Clubs of America. It has over 200,000 members worldwide. We like to call it debate for business. Participants choose to be in events, of which there are two main types; written and spoken. I have never done a written event, I plan to do one next year. Spoken events consist of four parts, one economics exam, one core cluster exam and two interviews or "role plays."
There are also different levels of DECA competitions. Area, State (ILCDC) and International (ICDC).  At most schools, one would have to compete at Area level and then qualify for the state level. ETHS is an exception because of the low number of participants we have (13). Many schools, such as Highland Park High School have 200+ students participating. To qualify for the international competition, participants have to place top 3 overall in their respective event.
I was able to participate in both Area and State level competitions, although I have not placed high enough to be able to go to ICDC. Area competition was fairly fun, I took and performed pretty well on both the economics and cluster exam (4th place on the economics test). I did alright on my role play, one of which I got a 72 on, which is a decent score. As for the other one, the rare occurrence happened that DECA lost my score, so I got a 0 which was very disappointing.  This 0 on the second role play caused me to place very low overall, which was a shame. Area competition still was a nice practice round for ILCDC which I participated in last weekend.
Last week, we went to state competition, also as known as ILCDC. We had to take a long but fun bus ride down to the Decator conference center. When we got there, we got settled in our rooms and attended the opening ceremony.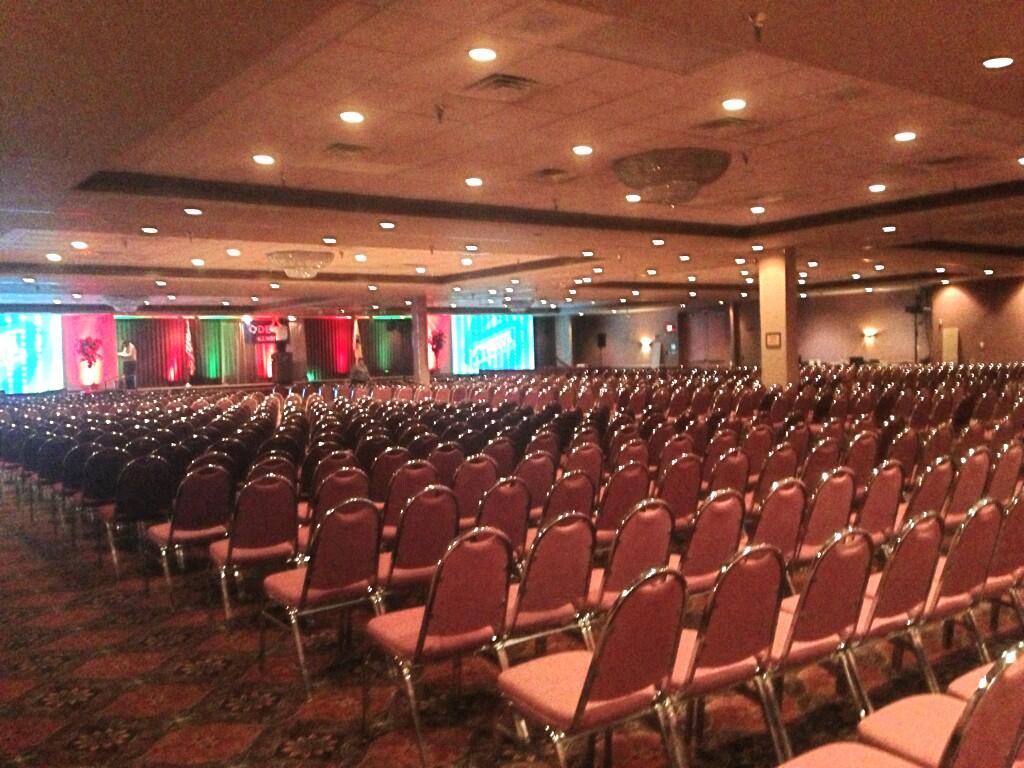 After the opening ceremony, we went to our event areas and took the economics exam. I was pretty tired by that point so I found it to be moderately difficult.  After the economics exam, while most DECA participants went to a karaoke party, a few of us were selected to participate in the DECA Quiz Bowl. The Quiz Bowl is a Jeopardy style game which the participants compete with an opposing team answering business questions. Our team won the first round by a very wide margin, but unfortunately we lost to Prospect High School in the 2nd round by only one point. They went on to get third place overall.  After quiz bowl we prepared for our role plays the next morning.
The next morning, I woke up early and went to my 7:45 Am Cluster Exam. Just like Area, the Cluster Exam was pretty remedial, (It asked me what a word processor was) and was not really a problem. Later that day I participated in both of my role plays. My first role play asked me about the role of business in society, with which I answered "The goal of a business is to make money while providing a good or service to the community." I thought I did very well on that role play and luckily I ended up getting a very high score. On my second role play, I was hit a little more by surprised, they asked me the question "Why is it important to educate workers?" I answered the question, but I do not believe I did as well, I still have not yet received my score.
Sucks for you, I don't have a bed -Will McGinley
That afternoon and evening while, we had fun attending the DECA banquet (watching a friend eat butter) and the DECA "Dance" (Ask me about that privately if you would like to know.) We ended going to bed at 2 AM for the awards ceremony the next day.
The next morning I first attended the mini awards session where I learned that I scored above a 70 on the Cluster Exam, the Economics Exam and Role Play 1. Unfortunately though, I did not place in the top three for any and so I received no metals. When I got to the grand awards session I learned I also had not placed top ten overall in my event. While at first disappointed that I had not done as well as I wanted, I was happy with the accomplishments of my other team members. I would like to congratulate everyone on the ETHS DECA team who participated this year. Candy Alcat and Gus Delgado both won metals. Connor Siegel and Andrew Bempah both placed in their events earning third and second place. They will be representing ETHS at ICDC in Anaheim CA this April.
I had a great time with everyone at the DECA state competition, even though I did not do as well as I had wished. I would like to thank ETHS, specifically Mr. Feeley and Mr Haller for funding and bringing us to ILCDC. We could not do it without you! I encourage every high school student to join DECA at your high school, if you have any questions about joining DECA or my experience, please contact me.